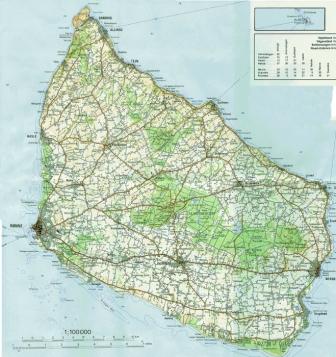 Country Denmark
Region Region Hovedstaden
Municipality Bornholms Regionskommune www.brk.dk
Area 588 km² (227 sq mi)
Population 42,817 (2008)
Time zone CET (UTC+1)
Bornholm (Old Norse: Burgundarholm) is a Danish island in the Baltic Sea located to the east of (most of) Denmark, the south of Sweden, and the north of Poland. The main industries on the island include fishing, arts and crafts like glass making and pottery using locally worked clay, and dairy farming. Tourism is important during the summer.
It also refers to Bornholm Regional Municipality, the municipality (Danish: kommune) which covers the entire island. Bornholm was one of the three last Danish municipalities not belonging to a county- the others being Copenhagen and Frederiksberg. On 1 January 2007, the municipality lost its shortlived (2003 until 2006) county privileges and became part of Region Hovedstaden (i.e. the Copenhagen Capital Region).
The small islands Ertholmene are located 18 km (11 miles) to the northeast of Bornholm. They do not belong to either a municipality or a region but are administered by the Ministry of Defence.
Strategically located in the Baltic Sea, Bornholm has been a bone of contention usually ruled by Denmark, but also by Lübeck and Sweden. The castle ruin Hammershus, on the northwestern tip of the island, is the largest fortress in northern Europe, testament to the importance of its location.
As the easternmost corner of the four, Bornholm is situated in the middle of the Baltic Sea. For more than 100 years, tourists, guests and artists have travelled toward the light, the beautiful beaches, the lofty cliffs in the north, the boisterous dancing of the waves, the whispering of the forests, the unique landscapes, the sizzling of the barbeque in the last rays of the sun, the peace, security and tranquility.
Holiday planning: www.bornholm.info       
Cycling holidays: www.cykel.bornholm.info;
The heritage: www.bornholmsmuseum.dk;
sailing planning: www.sejlerguide.dk.