Two historical rock carvings events took place in Southeast Skåne and Bornholm the same weekend September 11-12 2010 in relation to

during the
In Southeast Skåne Four Corners have collaborated with Österlens Museum and the Swedish Rock Art Archives in arranging two events open to the public. The main focus is the rock carving "the dancers rock carving" at Järrestad, Simrishamn. On Saturday evening "Rock Art By Night" started on one of Southeast Skånes most beautiful petroglyphs. A bus from Österlens museum took participants to the location that was illuminated by grazing light. Archaeologists told the stories of the petroglyphs and a Bronze Age buffé was served. On Sunday from 10-16 researchers where available at petroglyphs in Järrestad to answer questions, tell about the rock carvings. Visitors were also given the possibility to make their own frottage – a copy of the rock carving on carbon paper.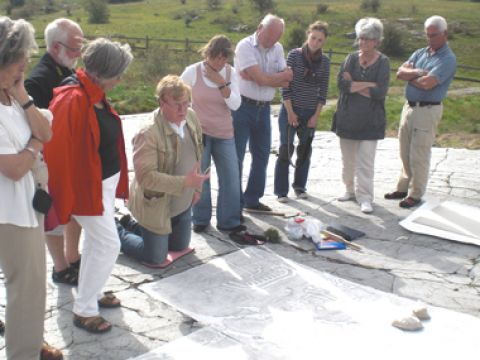 Photo:Ann-Louise Svensson, Österlens museum
On Bornholm the event "Listen to a rock carving" was held on September 11. Seven artists, musicians, actors, storytellers and poets, select a particular symbol carved in the rocks at Madsebakke and Hammersholm and produce a performance inspired by it. The event was created in collaboration with Bornholms Museum and Skov og Naturstyrelsen on Bornholm.