The locally elected representatives of the Four Corners collaborate to make the South Baltic an attractive place to live and visit. The traditions, political developments and historical differences are seen as a common asset that is to be nurtured and promoted.
The Four Corners Forum, which comprises political representatives from the four regions, is the highest decision making authority in the Four Corners Cooperation. The Forum meets once a year to lay down the guiding principles for the coming year. A political steering committee is also appointed at this meeting and meets as necessary. Questions that are taken up include strategy, objectives and project orienting.
A coordinator group of officials is given day-to-day responsibility for projects etc.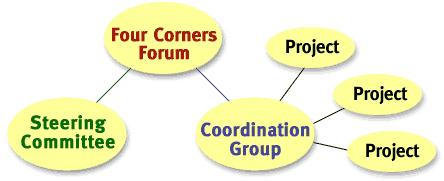 The Four Corners Forum is the highest decisive organ.