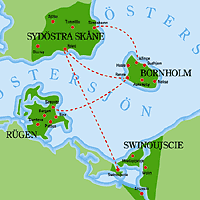 The Four Corners offers a kaleidoscope of colourful and interesting impressions. The countryside and rural areas support a variety of fascinating cultures and traditions - in fact, in these four border regions you'll find a taste of what the whole of northern Europe has to offer.
The four regions - Bornholm, Rügen, Swinoujscie and Southeast Skåne - of the southern Baltic are all border regions of their own countries. As a point of interest the Swedes call the Baltic the 'East Sea', and the Baltic States call it the 'West Sea'.
As a result of the democratic developments in Eastern and Central Europe, and because the regions are so close, it is quite natural that they work together for common goals.
In fact, since the 1980s, Bornholm and Southeast Skåne have worked together and exchanged views on many occasions. This collaboration was extended to include Rügen and Swinoujscie in 1995 and the Four Corners was thereby established. Since then the regions have worked together on a number of projects and in many areas.
The collaboration between Southeast Skåne and Bornholm, which is partly financed by the Nordic Council of Ministers, has been the hub of the Four Corners cooperation. Joint projects, financed by the EU, include culture, tourism, business development, communications and the infrastructure.
Although many historical events have linked the Four Corners there are also clear cultural and business practice differences. These difference and the historical connections make for some very interesting discoveries and experiences. Come and find out for yourself!